Click on the arrows above to hear the final solo and choruses to the Vivekananda Oratorio and the Parable of the Chameleon.
More musical selections on the events page.
Ramakrishna Vedanta Center of Las Vegas, Nevada
10732 Balsam Creek , Las Vegas 89144
SwamiAV@vedantalasvegas.org
wascottiii@gmail.com
atmavidya@vedanta.org
SPECIAL NOTICE: Several people have contacted us regarding credit card charges for "Om Ramakrishna". These charges are not from us. There is a gas station in Las Vegas with this name. We currently do not have any way to charge credit cards.Our Purpose
The Ramakrishna Vedanta Center of Las Vegas is dedicated to the following goals:
Teaching Vedanta philosophy and spiritual practices based on the teachings of Sri Ramakrishna and Swami Vivekananda.
Providing a place for the practice of meditation, prayer, and worship.
Promoting harmony among religions.
Helping individuals to deepen their spiritual practices.
The current minister is Swami Atmavidyananda, a monk of the Ramakrishna Order of India. Swami Atmavidyananda resides at the Vedanta Society of Southern California. He comes to Las Vegas to give lectures, retreats, and to hold worship services approximately once each month. From time to time, other Swamis of the Ramakrishna Order will visit the center as well. Please sign up for our e-mail list to receive notices of future events.
Those who would like to be initiated into a specific spiritual practice should contact Swami Atmavidyananda to arrange an interview with Swami Sarvadevananda who is sanctioned to give initiation.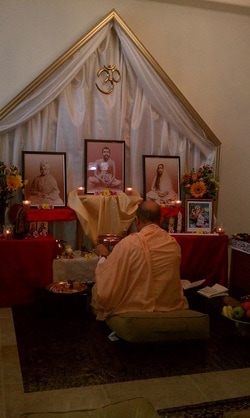 Highlights from the last lecture on Prayer
Definitions:
Talking and listening to God.
A spiritual treatment for the mind.
An act of communication by humans with the sacred , holy, or God - the transcendent realm or the ultimate supernatural power.
Expressing the desire to contact the sacred or transcendent realm.
The expression of the desire to unfold the higher powers that slumber within is.
Effectiveness
Studies over the last few decades have generally indicated that prayer has a positive effect on people. This can be understood as supporting the idea that we are all interconnected through a cosmic MIND, and our prayers and thoughts can transcend time and space.
As part of our total spiritual practice:
While often thought of as different, prayer, worship, and meditation can be thought of as all part of the larger category of spiritual practice. The lines of distinction become blurred as we progress.
Worship can be thought of as a form of prayer of praise and thanksgiving.
The act of praying is a good way to achieve concentration. Prayer helps to focus our thoughts. As prayer deepens and goes from being with words to beyond words it leads to "being with God" or upasana.
Praying for the welfare of others is a kind of silent mental karma yoga.
Suggestions for prayer:
Pray to be able to free yourself from the hold of the senses and to turn from Darkness to light, from ignorance to truth.
Pray that difficulties in life may become opportunities for spiritual growth. Pray for the understanding to make this happen.
Pray that your speech and actions may be guided by God, or that you will always be aware that you are God's instrument.
Pray that you will be free from desires and will be open to the inflow of divine power.
For the non-dualists - Advaitins
For those more interested in a non-dualistic approach, these prayers can be turned into affirmations.
For example: I am free from the control of the senses. I use obstacles in life to grow spiritually. etc.
Sri Ramakrishna on prayer:
What is the way? Prayer and holy company.... One should weep for God When the impurities of the mind are thus washed away, one realizes God.
Earnestly pray to God. God is our very own. We should say to Him: " Oh God, what is Thy nature? Reveal Thyself to me. Thou must reveal Thyself to me; for why else hast Thou created me?"
One should pray to God with a longing heart. God certainly listens to prayer if it is sincere.
What can a person achieve through mere scholarship? What is needed is prayer and spiritual discipline.
The best way in this kaliupga is bhakti yoga, the path of devotion - singing the praises of the Lord, and prayer.
God is the Kalpataru, the wish-fulfilling tree. You will certainly get whatever you ask of Him. God knows our inner feelings.... As one thinks, so one receives.
Suggestions from Kindle books The
100 Most Powerful Prayers for communication, Pray for Strength, Pray for Self Esteem
by Toby Peterson.

Select 5 to 10 affirmative style prayers and repeat several times a day.
Some examples from the book.

God, help me to talk to others with an open heart.
I pray that God will bless my words as I speak.
I am always letting God help me to grow and develp into a better person.
I am worthy of receiving God's love.
I let God keep my mind filled with positive thoughts about others and myself.
I have a strength from God that shines in the darkest hours.
I radiate God's strength from every cell in my being.



---